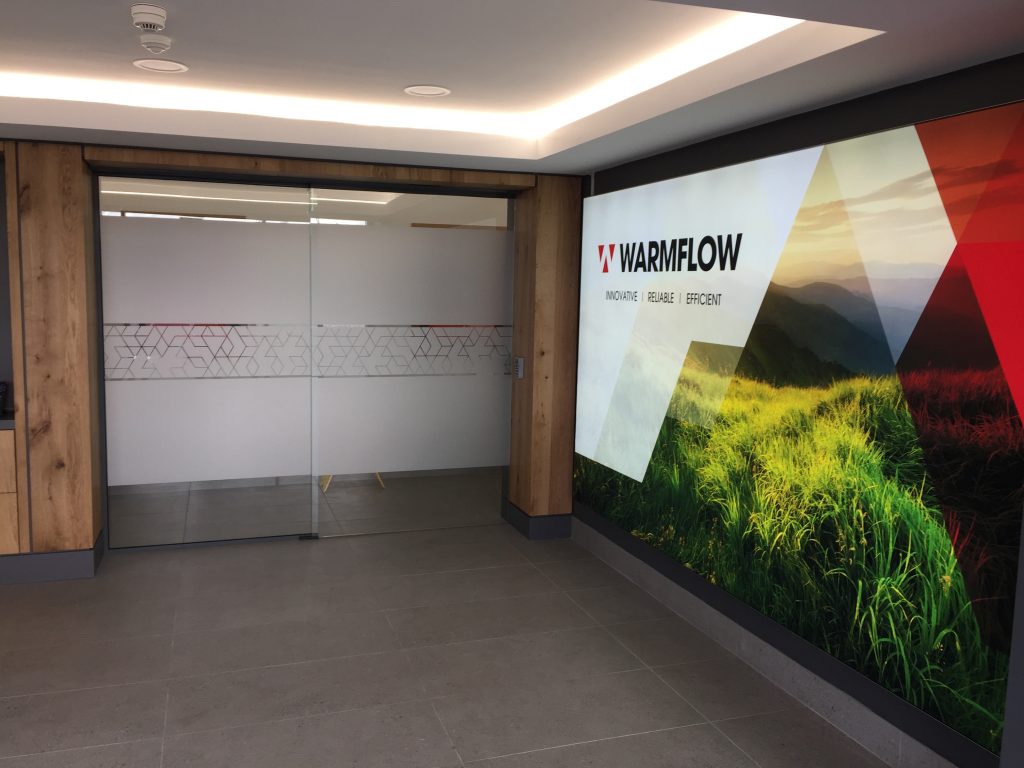 Warmflow Interior Branding
Alexander Boyd Displays are proud to have been involved with the update to the Warmflow office and entrance spaces. There were a number of unique challenges that were presented during the project including maximising privacy for staff but ensuring natural light was still a feature.
As part of the new layout design the traditional office zones received a revamp to provide professional areas for meetings and customer visits.
The new internal layout includes a modern, window filled, corridor that allows light to flow through a once compact and synthetic lit throughway. However, with these new windows a challenge arose around privacy and how this would be impeded, as a result of this we were invited to provide a solution.
We applied cut vinyl frosting to the reception entrance, office windows and copier room to provide a consistent yet artistic alternative to block coverage.
Adhesive wall vinyls in the boardroom and admin office provided sharp imagery and bold colours to bring the rooms to life. The historic images included in this provided an excellent visual for the company to show off its extensive and impressive history to customers.
The most impressive and arguably eye-catching element of the project is the 3.4m wide lightbox in the entrance lobby. Providing a bold, professional welcome to every visitor, this high-quality piece completes the project and will hopefully remain an iconic location in the building for years to come. The final design was approved, signed-off and production began in October. The project was completed on schedule and the new offices welcomed customers at the end of October.
Warmflow's Head of Marketing said that the branding looked incredible, while staff and clients alike had both commented on the positive and dramatic change to what was there before.